On December 5, 2022, Prof. WU Qidi, Director of the ICEE, and Dr. XIE Zheping,Associate Researcher, were invited to attend the preparatory meeting of VDI FK CN held in Shanghai, with about 30 participants involved online or offline.
Dr. Claas-Jürgen Klasen, member of the Asian Verein Deutscher Ingenieure (VDI) Board, gave an introduction to VDI FK, especially the reasons for establishing VDI FK CN in China at present. VDI FK CN aims to form a network of engineers with a view to encouraging more German engineers to work in China and attracting Chinese engineers to work for German companies.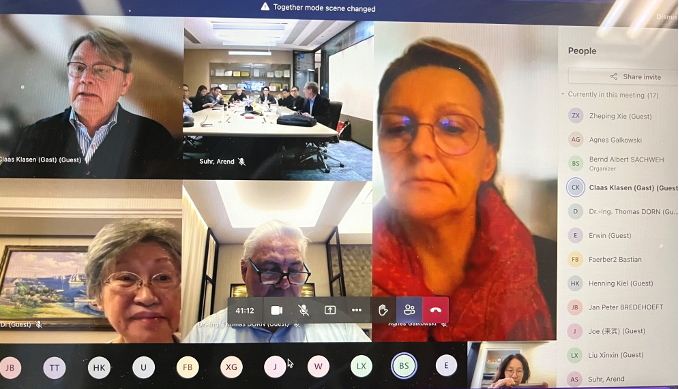 At the meeting
During the meeting, Prof. Bernd Sachweh of Badische Anilin & Sodafabrik (BASF) in Shanghai,China and Prof. Oliver Schirmer of Tongji University were nominated as Chairman and Co-chairman of VDI FK CN, respectively. Dr. Klasen noted that VDI would provide financial support for friendship circle meetings, and that in this early phase the VDI membership is not a must, VDI provides budget to VDI International, which can be used for projects, like organizing meetings, conference participation, student support, etc. Such meetings should be held every six to eight weeks, and the recent themes could include network building, talent support, digitalization driven Innovation, and standardization regulations in China. The next meeting would be planned in February 2023.
(Edited by XIE Zheping; Reviewed by XU Lihui, WANG Sunyu)