[Editor's Note] On December 6, 2022, the 2022 ICEE Governing Board and Advisory Board Meeting was held at Tsinghua University. YANG Bin, Executive Director of ICEE and Vice President of Tsinghua University, delivered a speech. He affirmed a series of actions taken by ICEE to promote the sustainable development of engineering. The following are the key points of his speech.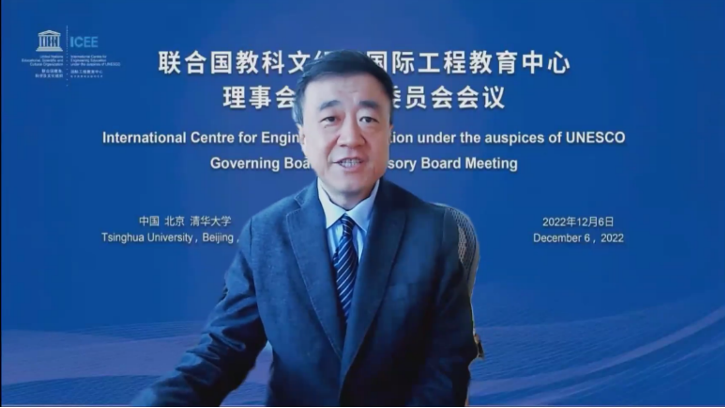 YANG Bin
Since its establishment, ICEE has always been guided by strategies of UNESCO, facing the 2030 UN SDGs, focusing on the core mission of improving the quality of global engineering education and promoting equity, and actively building a global engineering education community based on equality, inclusiveness, development and win-win results. In the past six years, ICEE has cooperated closely with international organizations such as the World Federation of Engineering Organizations (WFEO), the International Federation of Engineering Education Societies (IFEES), the European Society for Engineering Education (SEFI), the International Engineering Alliance (IEA) and the Africa Engineering Education Association (AEEA), and other category II centers of UNESCO such as the Aalborg Centre for Problem Based Learning in Engineering Science and Sustainability (UCPBL) to organize activities, share practical experience and discuss major development issues.
With joint efforts, the UNESCO Engineering Report II titled Engineering for Sustainable Development was officially released on March 4, 2021. The report was praised by Ms. Azoulay, Director-General of UNESCO, as a milestone in the formulation of UNESCO standards.
To promote engineering for sustainable development, Tsinghua University and ICEE have taken a series of actions. In 2018, Chairperson QIU Yong proposed to set up the International Forum on Engineering Education, a biennial event co-sponsored by Tsinghua University, the Chinese Academy of Engineering and UNESCO and co-organized by multiple engineering faculties of Tsinghua University, with the secretariat set up at ICEE. The first two forums were held in 2018 and 2020, respectively. Experts attending the forums had an extensive and in-depth discussion on major issues in the future development of engineering education. Themed by "Sustainable Innovation in Information Technology", the third forum was held on December 7-9, 2022.
In 2019, invited by WFEO and IEA, ICEE deeply participated in the revision of the Graduate Attributes and Professional Competencies (IEA GAPC). Moreover, ICEE undertook the 2021 Asia Deans' Forum to discuss the innovative development of engineering education amid the COVID-19 pandemic; relying on its corporate partners, ICEE set up the Base of Global Leadership Development to help developing countries to train local engineering talents; ICEE held the Academic Forum on Engineering Education and Engineering Culture, calling on more young people and women to participate in engineering education; and cooperating with the National Ballet of China, a top art troupe in the world, ICEE launched the ICEE Ballet Aesthetic Education Program to inject aesthetic education into engineering education and improve the artistic appreciation ability of engineering students, etc.
Tsinghua University has always attached great importance to engineering education. In 2019, the university issued the Implementation Opinions on Continuously Deepening Reform and Improving the Development Level of Engineering. With the overall idea of "Engineering +", it aims to strengthen basic engineering research, promote interdisciplinarity and improve engineering education. In November 2021, the university issued three medium- and long-term strategic plans, namely, the 2030 High-level Talents Cultivation Plan, the 2030 Innovation Action Plan and the 2030 Global Strategy, aiming to improve the quality of talents cultivation as well as the levels of academic innovation and international exchanges and cooperation with higher standards. Tsinghua University actively explores the training modes of top-notch innovative talents in engineering. In June, 2022, the Weixian College, the first institution for cultivating innovative talents in engineering, was established, in a bid to cultivate scientific and technological leaders who can define the future. In September, 2022, the National College of Excellence Engineers was set up to serve the national innovation-driven development strategy, enhance the industry-education-research collaboration, and cultivate leading talents in engineering innovation.
Humankind is a community with a shared future that shares weal and woe. We should work together to cope with challenges as we have always done. I believe that engineering science and technology and engineering education can make greater contributions to meeting the major challenges in global sustainable development and building a bright future for mankind. ICEE will continue to strengthen international cooperation in engineering education to jointly promote the development of global engineering education.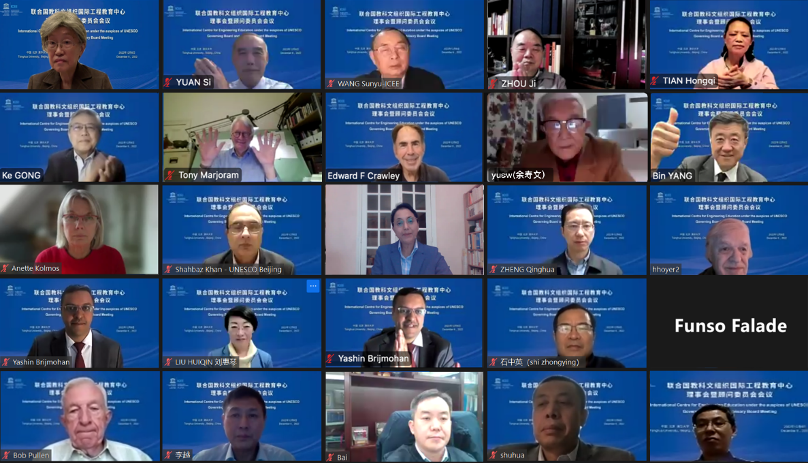 Group Photo of the 2022 ICEE Governing Board and Advisory Board Meeting
(Edited by: XU Lihui, LI Chao; Reviewed by: WANG Sunyu)