On January 6, the annual work meeting of the Base of Global Leadership Development, ICEE (the Base) took place both online and offline. YUAN Si, Executive Director of ICEE and Vice Chairperson of Tsinghua University Council, WANG Sunyu, Deputy Executive Director and Secretary-General of ICEE and professor of the Institute of Education, Tsinghua University, SHEN Ye, Assistant to the Secretary-General of ICEE and Secretary-General of the Global Partnership Board of ICEE, and the General Manager BAI Yinzhan, Deputy General Manager ZHANG Xiaoqiang, MA Jun, General Manager of the Human Resources Department, and HUANG Lihong, Deputy General Manager of the Technology Application Center from China Harbour Engineering Company Limited (CHEC) attended the meeting. BAI Yinzhan presided over the meeting. LI Chao, ZHU Pan, WANG Yujia, PAN Xiaochun from ICEE, and SHI Zhongqiang from CHEC attended the meeting.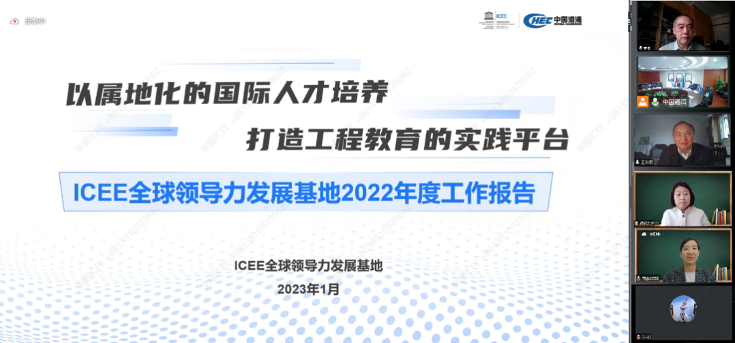 Work Report of the Base by ZHANG Xiaoqiang
On behalf of CHEC, ZHANG Xiaoqiang delivered a work report titled "Build a Practice Platform for Engineering Education through Localized International Talent Cultivation". He reported on the work progress of the Base over the past year since its establishment and its future plans from four aspects, namely the current situation of localized talent cultivation, internationalization of Chinese standards, its positive contributions around the Sustainable Development Goals (SDGs), and the work plan in 2023.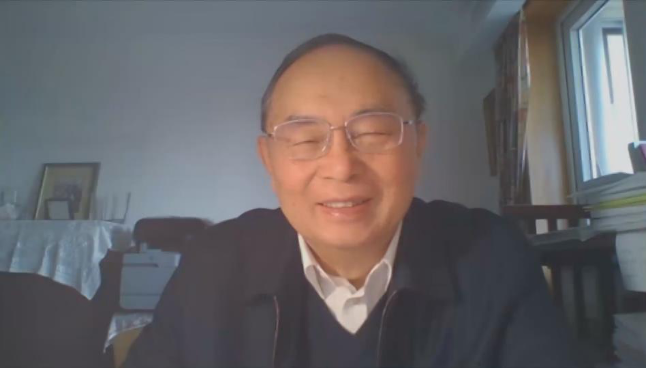 WANG Sunyu making remarks
On behalf of ICEE, WANG Sunyu introduced the major work of ICEE in the past year from four aspects, i.e. education and training, research and consulting, global partnerships, and capacity building. Then, the participants made comments and suggestions on how to further give play to the advantages of both sides and better perform the functions of the Base.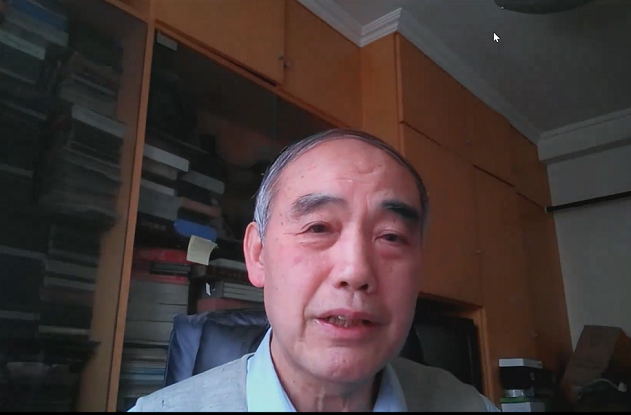 YUAN Si making remarks
In the concluding remarks, YUAN Si spoke highly of the achievements made by the Base over the past year since its establishment. He said that CHEC is an important and excellent partner of ICEE. CHEC has successfully "combined engineering education with engineering practice, integrated capacity building into engineering construction, and promoted local development with talent cultivation" in its localized development of overseas talents, thus creating high-quality blood for host countries and forming sustainable development capacities of local projects. This serves as a fine testament to the fact that CHEC is a broad-minded company with vision, ideals, ambition, aspirations, mission, dedication and social responsibility. What CHEC has done fully aligns with the UN SDGs for 2030, and is also a vivid practice by CHEC in responding to building a "community with a shared future for mankind" proposed by General Secretary Xi Jinping. YUAN Si hoped that both sides would deepen their cooperation in the future, make full use of numerous engineering projects of CHEC around the world, and fully leverage the advantages of ICEE in academic research and think tank construction to jointly explore a new international engineering education model represented by CHEC and promote it globally.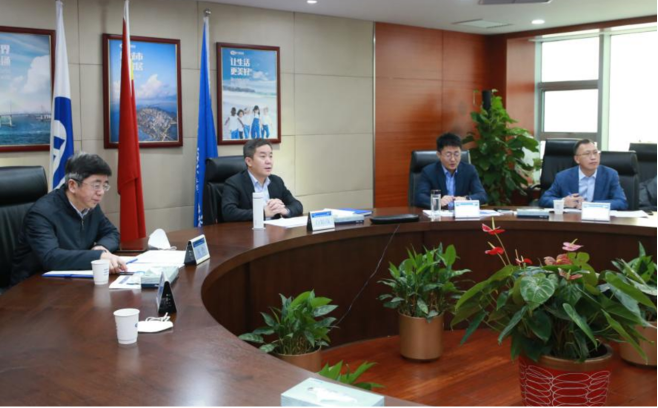 At the meeting at CHEC
On behalf of CHEC, BAI Yinzhan expressed his gratitude to ICEE for having CHEC as a global partner and to Director YUAN Si for his high recognition for the work of the Base. He said that CHEC, as a pioneer of overseas project construction under the Belt and Road Initiative, is committed to taking the lead in becoming a world-class enterprise, and promoting high-quality development, and firmly promoting localized development and global sustainable development. Those are the highly consistent philosophy both sides uphold. He hoped that CHEC would jointly explore new models of international engineering education with experts from ICEE, and develop more pragmatic cooperation in international engineering talent training, the industry-education-research cooperation and international cooperation and exchanges, so as to boost the brand of the Base.
The Base, jointly established by ICEE and CHEC, represents one of the landing projects under the Strategic Cooperation Framework Agreement between Tsinghua University and China Communications Construction Company Limited (CCCC). It aims to facilitate international engineering education and capacity building under the UN SDGs, and carry out exchanges and cooperation in the fields of global engineering talent training, global engineering consulting and research, etc.
(Edited by SHEN Ye, LI Chao; Reviewed by XU Lihui)