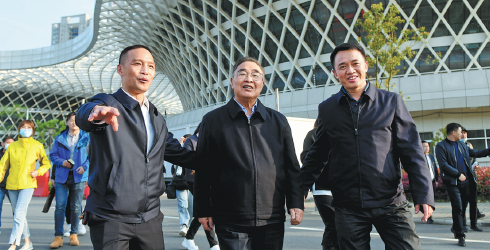 Zhang Boli (center), president of Tianjin University of Traditional Chinese Medicine, revisits the site of a makeshift hospital in Jiangxia district in Wuhan, Hubei province, last month, where he headed a team specializing in using TCM to fight the COVID-19 outbreak. CHENG MIN/XINHUA
Surrounded by a crowd of anxious COVID-19 patients in a tiny room in a Wuhan clinic, doctor Zhang Boli could sense their fears-as well as hopes-just by looking at them.
It was late January last year, and China was celebrating the Spring Festival. Zhang, head of the Tianjin University of Traditional Chinese Medicine, had rushed to Hubei province on Jan 27 as he was worried about the risk of cross-infections from the virus.
As a member of the Communist Party of China and an academician of the Chinese Academy of Engineering, he said he felt an enormous duty to volunteer for the front line.
He immediately warned his colleagues the patients should not be crammed together in such close conditions.
With no effective medicine yet for the virus, Zhang proposed that the patients should be classified into four groups: those confirmed with COVID-19; those with an apparent fever; those with suspected symptoms; and those who needed to undergo observation after coming into close contact with infected people.
Moreover, Zhang, who fought the severe acute respiratory syndrome outbreak in 2003 with traditional Chinese medicine, suggested that all patients, except those in intensive care units, be encouraged to take traditional Chinese herbal decoctions.
The decoctions could help rid people of "dampness in the body", as suggested in TCM manuals, Zhang said.
During the battle to contain SARS, Zhang had managed to lead a TCM team in establishing the only TCM "red zone" to treat confirmed patients, and their experiences were documented by the World Health Organization.
His proposal to administer TCM was soon put into action.
On the first day, more than 3,000 confirmed patients took TCM doses offered by his team and their conditions started to improve. Over the following days, hundreds of thousands of patients were administered with the TCM decoction and other remedies.
By mid-February, the proportion of confirmed cases with serious symptoms dropped to under 50 percent from over 80 percent at the beginning of the month.
Tried and tested
By Feb 12, Zhang was leading more than 200 TCM doctors from across the country who were stationed at a makeshift hospital in Jiangxia district, Wuhan. It was the first and only temporary hospital dedicated to TCM treatment during the outbreak.
Two days after it opened, all patients were prescribed with TCM treatments such as qingfei paidu decoction and xuanfei baidu formula, together with massages, acupuncture and exercises such as tai chi and baduanjin, a traditional form of aerobics.
No infected patients at the hospital receiving TCM treatment progressed from a mild to serious condition, and no recovered patients tested positive again, Zhang said. No medical staff were infected with the virus.
The success rate of TCM compares with WHO figures that show 10 percent to 15 percent of COVID-19 cases develop into more severe ones.
TCM treatment was also used in the isolation wards of 16 makeshift hospitals for COVID-19 patients in Wuhan, and after that the rate of patients developing severe conditions reduced substantially, Zhang said.
China's National Administration of TCM says that at least six TCM drugs have been shown to be effective in treating the virus.
In total, TCM drugs were given to 90 percent of COVID-19 patients in Wuhan, relieving symptoms, slowing the progress of the disease, reducing mortality and boosting recovery, Zhang said.
However, he said the successful application of TCM was achieved in conjunction with the use of Western medicine.
"For a critically ill patient, a ventilator and oxygen certainly help save a life," he said.
By March 19 last year, Wuhan, which has a population of more than 10 million, finally saw zero new cases for the first time since the massive outbreak.
Personal sacrifice
Zhang was among the cheering crowd of medical staff celebrating the achievement when he was suddenly presented with a cake. "Happy birthday!" his colleagues shouted.
Zhang had forgotten it was his 72nd birthday. "This was the best ever birthday for me," he said.
His son, Zhang Lei, a TCM doctor, also traveled to Wuhan to join the fight against the virus.
He worked at another hospital and did not learn until later that his father had undergone surgery. Due to the intense workload, little sleep and an irregular diet, Zhang had been experiencing sudden, sharp pain in the upper right-hand side of his stomach. The pain was caused by cholecystitis and occurred within a week of the TCM hospital opening.
On Feb 19, he underwent gallbladder surgery but kept the news from most of his colleagues and loved ones.
He made sure his surgical scar was concealed by his medical gown."I wanted to keep up the confidence and morale of my team," he said.
International aid
After returning to Tianjin from Wuhan, Zhang participated in dozens of video sessions to share his TCM treatment methods with medical practitioners overseas.
"Regardless of national boundaries, I hope TCM can help more people worldwide," he said.
According to the National Administration of TCM, China had shared TCM therapy, prescriptions and clinical experiences on dealing with COVID-19 with more than 80 countries and regions by December.
The lianhua qingwen capsule, a patented TCM treatment for COVID-19, has received marketing approval in more than 10 countries and regions.
On Sept 8, Zhang was conferred the national honorary title People's Hero by President Xi Jinping at the Great Hall of the People in Beijing.
Xinhua contributed to this story.