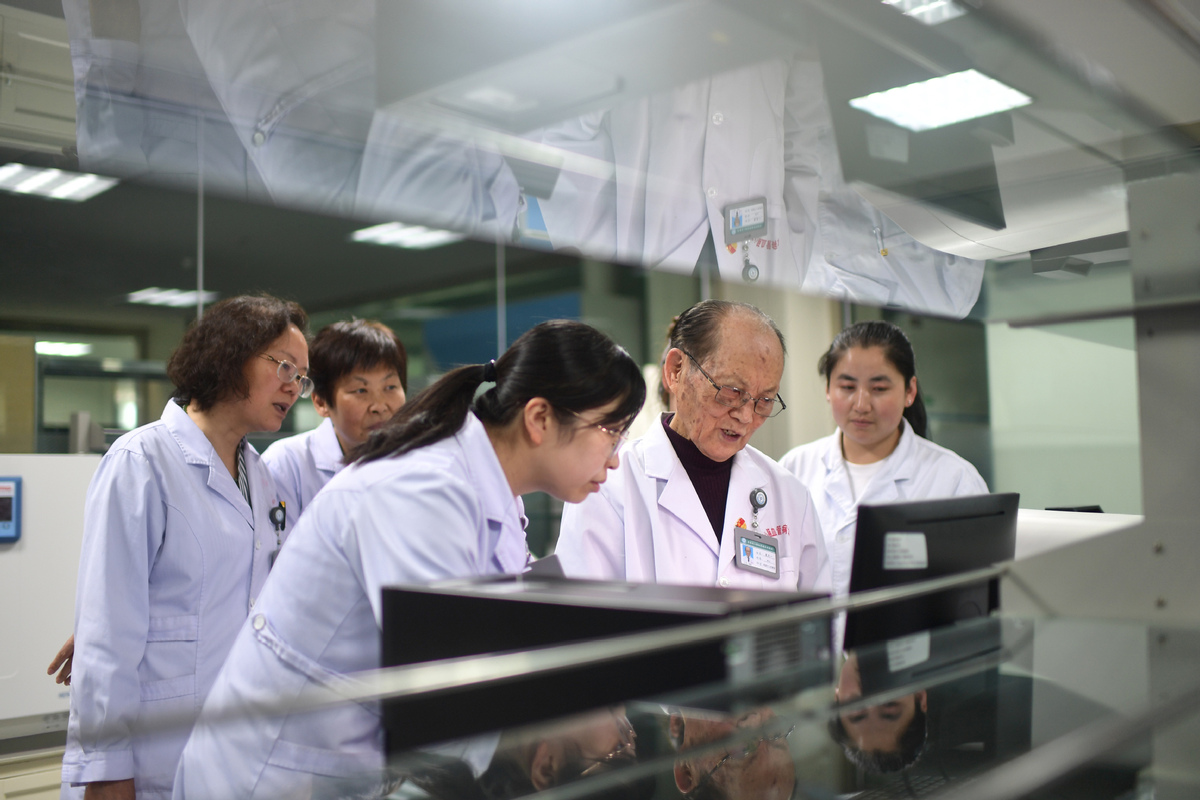 Wu Tianyi checks his students' work at a laboratory in Xining, Qinghai province, on June 17. [Photo/Xinhua]
Pioneer's legacy includes protocol that aided Qinghai-Tibet Railway construction
Wu Tianyi is the only member of the Chinese Academy of Engineering living in Northwest China's Qinghai province.
The 84-year-old is a pioneer of high-altitude medicine, as well as an expert in hypoxic physiology.
For more than 60 years, Wu has used his medical knowledge to protect the lives and well-being of the people on the Qinghai-Tibet Plateau, and on June 29, during celebrations for the Communist Party of China's 100th anniversary, he was awarded the July 1 Medal, an honor given to outstanding Party members.
Wu began studying at the China Medical University in Northeast China's Liaoning province in 1951. Seven years later in 1958, he left for Qinghai as the country was encouraging young people from more prosperous provinces to get involved in the development of the northwest.
Along with many of the other young arrivals, Wu soon began to experience symptoms of altitude sickness, such as breathing difficulty, headaches and fatigue.
While altitude sickness commonly affects people new to live at high elevations and usually goes away as their bodies adapt, it can also affect those born and brought up at such heights a progressive condition that is known as Chronic Mountain Sickness.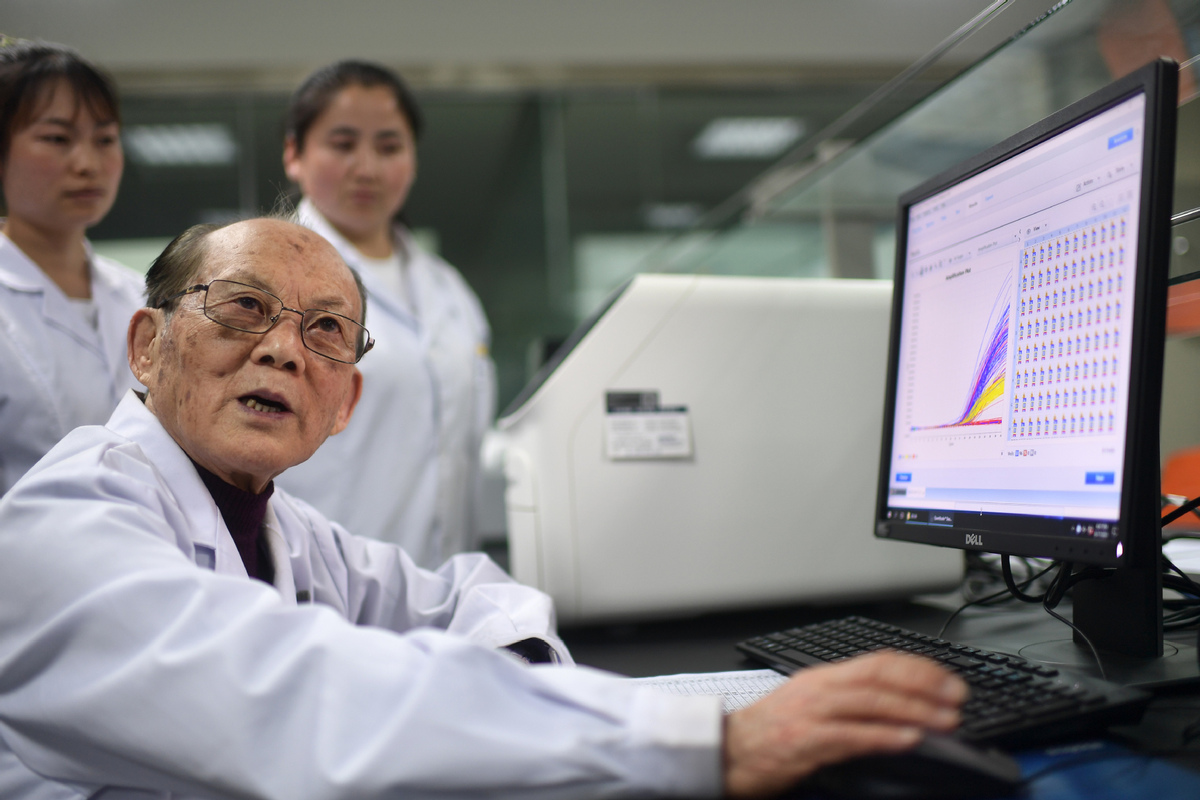 Wu Tianyi checks his students' work at a laboratory in Xining, Qinghai province, on June 17. [Photo/Xinhua]
When he noticed that altitude sickness was also common among border soldiers and other migrants who came to take part in the region's economic development, he decided to look for a solution.
"To develop the region, you first had to solve the problem of adaptation to the high altitude," he said.
For decades, Wu spent his time observing and surveying the local population. His hard work paid off.
During construction of the Qinghai-Tibet Railway, the world's highest railway, in the early 2000s, Wu and his team devised a protection-and-first-aid protocol that allowed all 140,000 workers to avoid suffering the effects of acute altitude sickness.
Liu Fengyun, deputy director of the central laboratory of the Qinghai Province Cardiovascular and Cerebrovascular Disease Specialist Hospital, said no casualty during the construction was a "miracle".
Wu Tianyi, a member of the Chinese Academy of Engineering living in Northwest China's Qinghai province. [Photo/Xinhua]
Li Yuxian, assistant researcher at the laboratory, said she has been studying with Wu for more than a decade since she joined his team in 2011.
Between 2012 and 2013, she joined an international project in which a hyperbaric chamber simulated conditions at 5,000 meters above sea level, allowing researchers to better study the function of the hearts and lungs.
Despite being in his 70s, Wu was the project leader and helped solve the problems researchers encountered during the experiment.
"His dedication to altitude sickness research really touched me," Li said.
Wu said dealing with a lack of oxygen has become normal.
"The plateau is part of my life. It is the root of my life and my science. I feel no regret for having chosen to stay here," he said. "I am old. My responsibility now is to lead the team and train tomorrow's doctors to ensure the health of people on the plateau gets better and better."