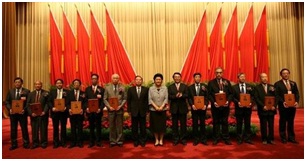 Awarding Ceremony of the 9th Guanghua Engineering Science and Technology (EST) Prizes was held at the plenary meeting of the 11th General Assembly of CAE on June 13, 2012. State Councilor Liu Yandong, together with Bai Chunli, President of CAS, and Zhou Ji, President of CAE, conferred prizes to award-winning scientists and engineers.
The Guanghua Engineering Science and Technology Prizes are administered and organized by CAE and sponsored by means of individual donations at home and abroad, rewarding Chinese engineers and scientists with outstanding achievements in the fields of engineering science and technology, as well as management, in order to inspire more initiative and enthusiasm for studies in development and application of engineering science and technology, as well as innovation in their work. The Prizes have produced far-reaching influence in a positive manner on the engineering science and technology sector and the society. The Guanghua EST Prizes, composed of three awards, namely, "Achievement Award", "Engineering Award" and "Youth Award", were issued biennially. Guanghua EST Prizes have been issued nine times after its inauguration in 1996 and a total of 174 experts specialized in engineering science and technology received the honor.
The 9th Guanghua EST Prizes were issued to 26 academicians and specialists in total, with "Achievement Award" being conferred to Pan Jiazheng, a renowned expert in soil structure and hydropower construction in China, also Member of both CAE and CAS. The thirteen "Engineering Award" winners are Zhang Weihua, Ma Jiaguang, Zhao Baochang, Li Dongying, Lin Min, Hu Jianyi, Wang Yunmin, Ge Xiurun, Nie Jianguo, Liu Hongliang, Xu Jianmin, Song Zhanqian and Cao Xuetao. And the twelve "Youth Award" winners are Li Zhihui, Xia Changliang, Chen Shanzhi, Lv Jinhu, Zhang Fuming, Zhang Liqun, Tang Guangfu, Zhang Nong, Jiang Zhengqiang, Wu Minghong, Zhang Youjun and Huang Luqi.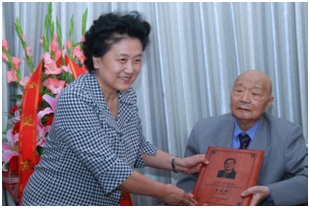 State Councilor Liu Yandong went to Beijing Hospital on the afternoon of June 13, visiting and greeting CAE Member Pan Jiazheng who had been receiving medical treatment there, as well as awarding him in person the "Achievement Award" of the 9th Guanghua EST Prizes. During the meeting, Liu spoke extremely highly of Pan's innovative spirit, the enormous contributions Pan had made for the construction and development of the Chinese Academy of Engineering, and the strong support Pan had provided for China's major engineering science and technology decision-making as well as development strategy planning. Besides, Pan's enthusiasm for and efforts in the popularization of science and engineering also received high recognition. (By Liu Chang, June 2012)